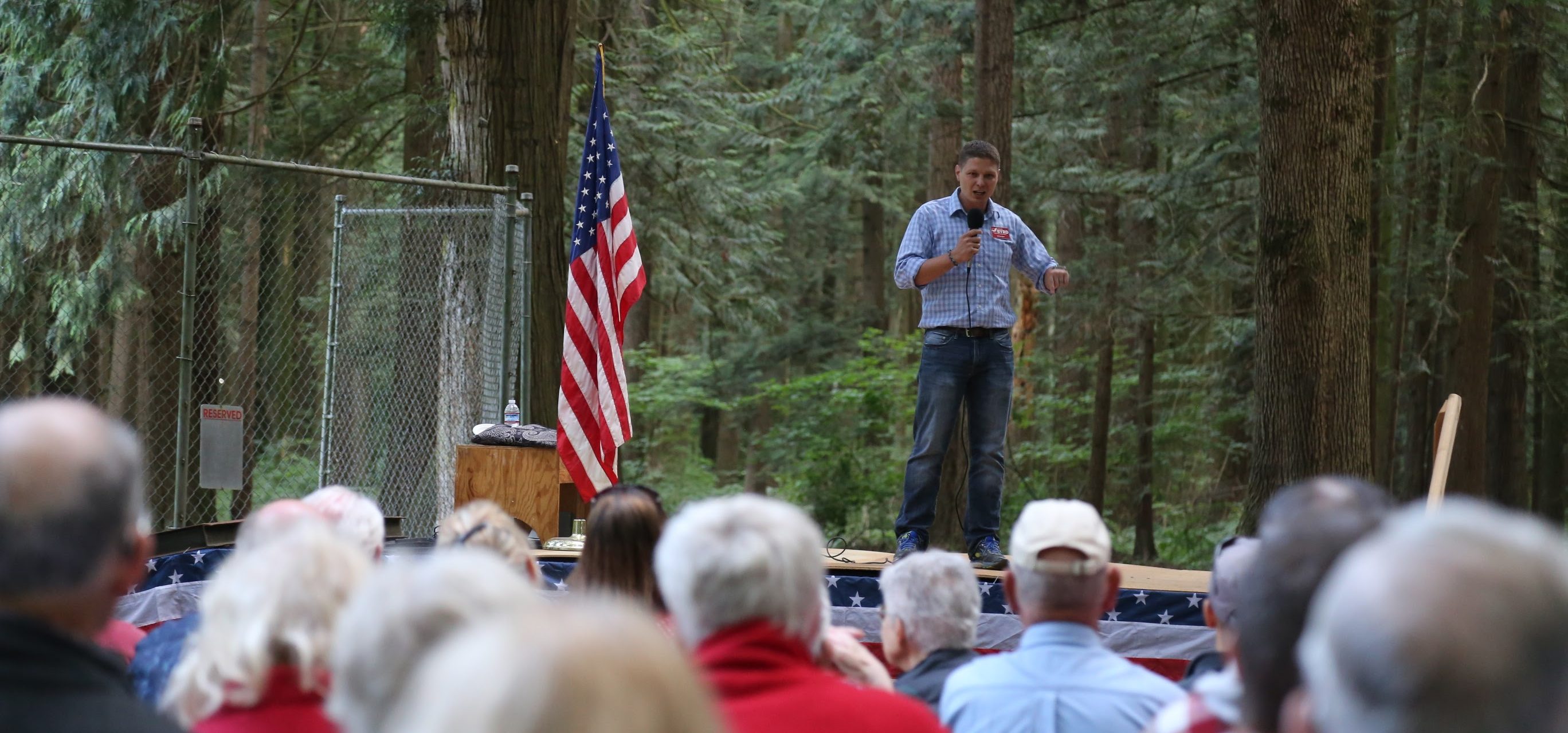 I was born in Vancouver, Wash., and moved to Whatcom County at the age of 5 to start kindergarten at Happy Valley Elementary…13 years later I graduated from Ferndale High School.
I had an excellent role model for public service in my Grandfather. Before I started my campaign for County Council, my mother shared with me a number of scrapbooks he had compiled of his service as a Sheriff's Deputy in Cowlitz County. I found the newspaper clippings that showed him evacuating Mount Saint Helens and receiving multiple distinctions from the FBI impressive. His career and service to his community were inspiring to me as a young man.
Before starting my own companies, I worked at Morgan Stanley and Northwest Resources Credit Union (now Trailhead Credit Union). In these positions, I gained an in-depth knowledge of financial management. From cash flow analysis to debt service ratios, balance sheets, and budgets. I have a thorough understanding of what it takes to run profitable organizations while working within a budget.
Throughout my life I've found that strong leadership, financial management, budgeting, relationship building, and the ability to listen and continually learn have been the keys to my success in business. I have used these skills to build two thriving companies here in Whatcom County, where I have created local jobs that pay over $500,000 in annual wages and benefits.
I've been asked how I got my start in business and whether I grew up with money. My answer is absolutely not. I've worked exceptionally hard and built my businesses from nothing. It's been hard and time-consuming but incredibly enjoyable and rewarding.
It has become my passion to help other dreamers do the same. Over the last six years, I've had an opportunity to mentor hundreds of entrepreneurs interested in creating their own companies. Some realized their idea wasn't going to turn into a working business, others have grown their concepts into dynamic enterprises.
In 2005, I met my exceptional wife, Ana Sofia. We married in 2007 and have two fun and energetic boys, Xander and Jake. Our Doberman, Rex, and our cat, O'Malley, round out our family.
As a small business owner, father, and husband, I have worked hard to give back time and money where possible. Whether it's coaching youth football, mowing the lawn at our church, or sitting on the board of a nonprofit, I have invested a significant amount of time working to better our community and to create a legacy I am proud to pass on to my children.
Learn more: Linkedin Profile
Businesses Owned
Awards
Bellingham Business Journal Business Person of the Year
Whatcom Business Alliance (WBA) Startup of the Year
Technology Alliance Group (TAG) Outstanding Achievement in Industry Leadership
Bellingham/Whatcom Chamber of Commerce Most Valuable Player
Current Community Involvement
Whatcom Business Alliance Board Member
Rotary International Member and "Brewers By the Bay" Committee Member
Technology Alliance Group Member
Whatcom Farm Bureau Member
Bellingham Covenant Church Attendee and Volunteer
Regular blood donor
Past Community Involvement
Whatcom Young Professionals Chair
Whatcom County's Global Entrepreneurship Week Organizing Committee Member
Rotary Grape & Gourmet Committee Member
Custer Gun Club Member
United States Practical Shooting Association Member
Western Washington University DECA Competition Judge
Western Washington University Business Plan Competition Judge
Ferndale Boys & Girls Club Spaghetti Feed Volunteer
Five Reasons To Vote For Me
I am the only candidate running for the Whatcom County Council District 3 seat who has created jobs and understands what businesses need to grow and be profitable.
I am the only candidate with in-depth knowledge and hands-on experience managing large, complex budgets. (The Whatcom County annual budget is $185 million.)
I have passion, energy, stamina, the ability to creatively solve tough problems and the drive to stand up for what's important to the people in District 3.
My experience as a business leader has taught me how to effectively build relationships in order to achieve shared objectives. It has also taught me that sometimes you have to make tough decisions to stand up for what's right.
I'm a husband, father, son and brother. I want to do everything I can to keep the American Dream alive for my family and yours.